Amidst the incessant rain, the amazing Tech event- Web Summit 2015 was wrapped up on 5th of November at Dublin. The 22000 tech enthusiasts including me are returning back to our home countries with mindful memories of insightful tech talks and the networks that we built during the last three days. Web Summit is shedding its Irish roots and will be moving to Lisbon next year. Yet another significant announcement by the organizers was that 10000 female Entrepreneurs will be given free tickets in 2016 across conferences in US, HK, India, Lisbon. The Indian chapter of the conference is called Surge and is scheduled to be held at Bangalore on February 23- 24, 2016.
Coming back to the third day tech talks. The 3D Printing technology, Virtual reality and smart umbrellas took the center stage, on Day 3. Multiple vendors have showcased the 3D printing technology in the booths. An interesting start up "Oombrella" showcased their product of the same name, the first smart & connected umbrella, which falls on a kick starter and collects weather data and sends real-time alerts for the users. The umbrella is connected to a smartphone app. The app gives rain alerts for the day, and if you accidentally forget your umbrella behind, the smartphone will begin buzzing with a message from the umbrella with its GPS location. The "Myo Armbands" from Thalmic labs also caught audience attention. Myo works on an intelligent combination of motion sensing and muscular activity and enables muscle activity in the arm to control a range of devices.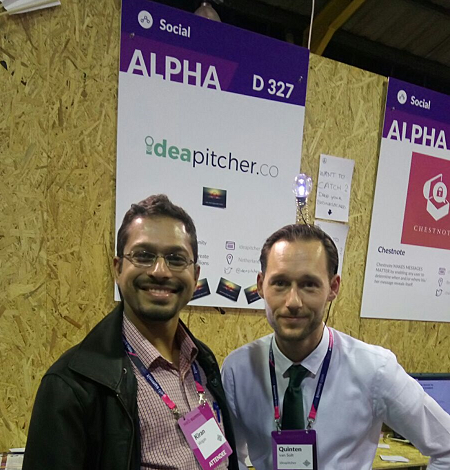 The best startup of 2015 was awarded to Connectera, an Amsterdam-based startup's product which can analyze real-time movement data of cattle to help improve farm productivity. Bizimply, a cloud-based software-as-a-service business that provides workforce management software to businesses with hourly paid employees, also got the startup award at the Web Summit 2015.
Ed Catmull, president of Pixar and Disney Animation Studios and the New York Times best-selling author Dan Brown were the two personalities who got greater audience attention on the closing day. Catmull closed the Web Summit to an absolutely jam-packed RDS main hall.
In a nut shell, with more than 22000 tech enthusiasts from 134 countries, 21 different mini-summits, 1,000 speakers, 2,141 start-ups and 1,000 investors, the greatest tech festival on the planet marks its end here in Dublin. I am bringing back many invaluable contacts and networks worth building future business opportunities to Happiest Minds, the next generation
Digital Transformation
Company which I represent. A big bye to all my new friends and the bustling RDS venue, Dublin. A big "Thank You" to the Web Summit organizers for giving me this wonderful opportunity, to be a part of Web Summit 2015.